Alif
Alif is the first letter of the Arabic alphabet.
This letter sounds rougly like a man being strangled. So let's imagine that the letter looks like a person's neck!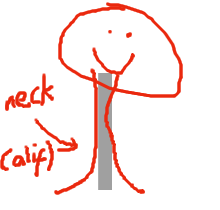 So, what does
sound like? Nothing. Hence the headless guy. Like a man without a head,
doesn't make a sound by itself.
It doesn't sound like anything, in fact, unless it has a vowel sign under it.